Sixer Scout: Is Derbyshire's Luis Reece Worth the Wait in the Sixer Market?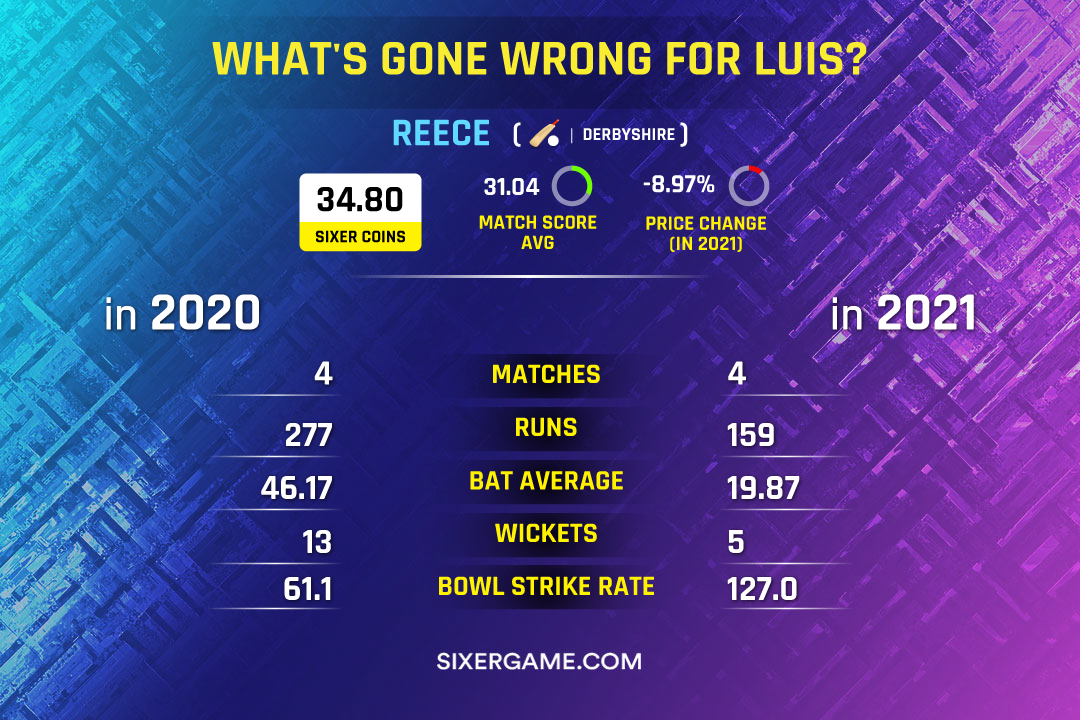 The English County Championship is the talk of the town, and so are the fantasy stocks of players playing for counties such as Yorkshire and Somerset. While the usual suspects, Joe Root and James Anderson, continue to hog the limelight, there a few fantasy stocks that might entice you into a trade, albeit with a proper analysis of their viability in the Sixer Market. The way to go is to shift our focus to the lesser-known County teams, which is precisely why we zero down on Derbyshire, which boasts of one of the best all-rounders going around in the English circuit!
After an in-depth look into Joe Denly and his viability in the Sixer Market in the previous article, we move on to a more genuine all-round prospect in the Sixer player roster - Luis Reece. For those who aren't aware of Reece, he is an all-rounder who bats and bowls left-handed, a very rare combination in this day and age. Reece, who received his first County cap a few seasons ago, has earned his team's confidence and backing as he opens both the batting and bowling for them in the red-ball format.
However, Reece hasn't been in the best of forms this season, although we aren't even halfway through the competition yet. The Derbyshire all-rounder is down by 8.97% in his last four games, leaving his fantasy price at 34.80 Sixer Coins per Share! As was the case with Denly in our previous Sixer Scout article, his poor form has made him an intriguing case. But, talent ultimately does have the bigger say, although we try and dissect Reece's viability and understand why he is one of the most highly-rated players in terms of talent and potential in the Sixer Market! Without further ado, let's jump into the thick of things!
Slow Start for Reece With 8.97% Decrease! What Has Gone Wrong for the Derbyshire All-Rounder?
Luis Reece, who is one of Derbyshire's better players, hasn't really clicked this season. Although returns, which read 159 runs and five wickets in four County Championship 2021 games this season, might not be too bad, here's where we dig further into the numbers. As already mentioned earlier in the article, Reece is down by 8.97% this season, and he averages a match score of just 31.04 to show for his efforts. This is the least for any batting all-rounder in this competition, which doesn't add up nicely in his resume.
He averages 19.87 with the bat, which can be accounted for a better quality in oppositions as he consistently has to see out the new ball bowlers. 159 runs in eight innings are quite dismal for a quality player, who scored 277 runs in as many matches last year in the Bob Willis Trophy 2020. And to add more value to his case, he averaged 46.17 with the bat last season, which does hold him in good stead. This lean patch with the bat could just be a bad run of form, which is quite common for any player in the world. But there's more to it than just his batting.
In Luis Reece's case, it wasn't just his batting productivity that dipped. He has only picked five wickets this season despite bowling with the new ball in each and every game. His bowling strike rate reads a dismal 127.0. For those who aren't aware of how bowling strike rate works, Reece is picking up a wicket once every 127 balls, which is horrendous given his potential. And to think that just a few months ago, Reece picked as many as 13 wickets at a bowling strike rate of 61.1! His productivity has dropped by more than 50%, which is quite intriguing for his fantasy shareholders, who may just be losing patience with the Derbyshire all-rounder!
Lack of Match Practice, Poor Form Going Against Reece But For How Long?
Now that you've gone through the stats, the first thing that pops up right into your eyes is that his productivity is down by more than 50% with both bat and ball. However, if you look closer, this is the same man who averaged 46.17 and nearly 28 with the ball in hand. If Reece is capable of those numbers not too long ago, surely he deserves a longer rope, right? There may be many issues or reasons regarding his drop in form, but the major one that stands out is the lack of match preparedness for Reece, with the all-rounder playing last in the T20 Blast last season. But this is the case for most players, isn't it?
It all boils down to poor form at the end, which Reece is keen to turn around in the coming days. He and Derbyshire didn't feature in the previous week, although they are back in action with a tough test ahead of them in the form of Essex this Thursday. But again, conditions are changing from week to week, with rain now playing a significant role in all games across the country. With overcast conditions being a granted, this could well favour and go against Reece. While he should enjoy bowling with the new ball with clouds hovering over the ground early in the game, Reece will need to dig deep and stick around when he does come out to open the batting for Derbyshire.
Reece, who has played in the Bangladesh Premier League in his career, has the experience to get his act right. And for a player whose skill-set is perfect for these typical English conditions, surely 34.80 Sixer Coins presents a bargain in the Sixer Market. Again, it comes down to a fantasy shareholder's willingness to go against the norm and back players to bounce back into the gains. There are quite a few players who have repaid the faith shown by fantasy shareholders with massive increments; read Craig Overton or even Ollie Robinson; Luis Reece is well and truly capable of excelling in this format.
Not to mention, Reece is a vital part of the white-ball plans for Derbyshire and was one of their go-to players in the T20 Blast last year. With a heap of games still to pan out in the Sixer Market as part of the English domestic season, there is real value in Luis Reece and his fantasy stocks. But can he prove to be the "Diamond in the Rough" kind of option in the Sixer Market? That's a question whose answer can earn you some big bucks, but one thing's for certain - Luis Reece is surely one to watch out for in the months to come!
Other insights that might interest you