Sixer Scout: Can Denly Get Back Into the Gain After Slow Start to the English Domestic Season?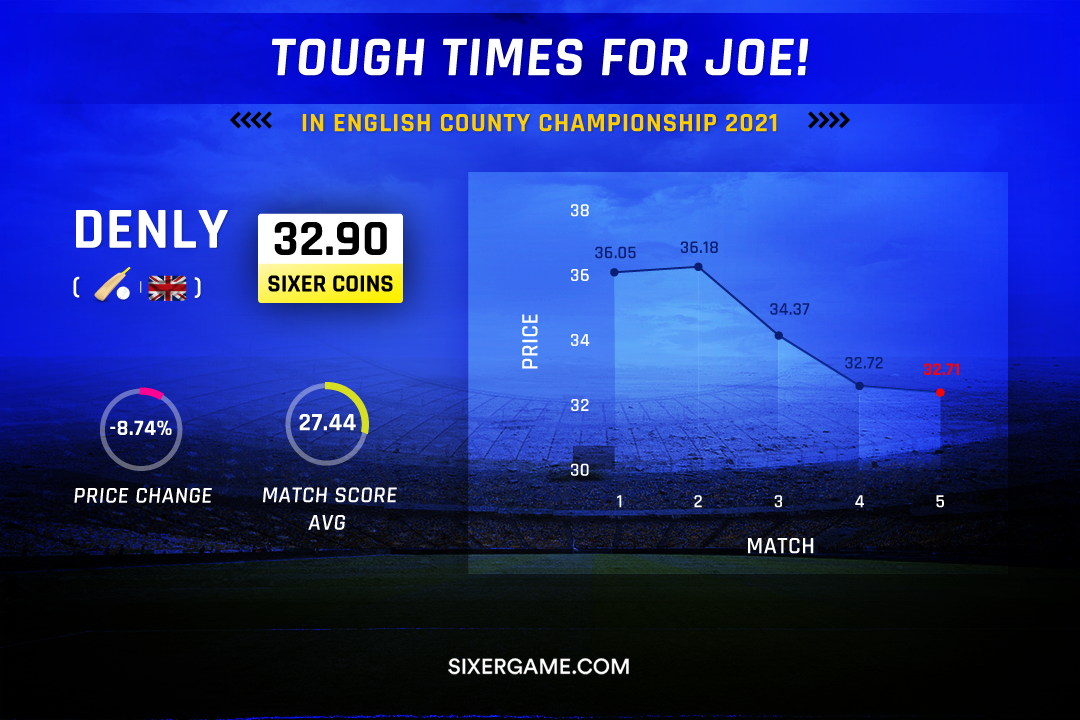 The myth of the English weather is well-documented and well-known to cricket fanatics all over the world. For those who didn't, the "myth" was back again as rain played spoilsport in each and every County game that took place across the United Kingdom. While for some fantasy shareholders, rain couldn't have come at a better time, read Craig Overton and Ollie Robinson's fantasy shareholders, for some, it was a lost cause. Although fantasy stock trading is more of a marathon than a 100-metre dash, short term success is something that most fantasy shareholders are still hell-bent on at the moment.
But, there are quite a few examples in our very own Sixer Market that prove the worth of holding stocks for a long period of time. If you don't believe this, check out Mohammed Rizwan! The Pakistan wicket-keeper is up by 152.38% since he was introduced for the first time in the Sixer Market. And to think that this figure even peaked at 210.9%, when his price rose to 85.13 Sixer Coins during the PSL, should give you enough confidence to back your players in the long run.
However, it isn't quite straightforward. Backing a player in the long run would be identifying a player's potential and the opportunities he is in for across different leagues and formats. To help you out in this process, the latest brainchild of Sixer, i.e. the Sixer Scout, is here with one intriguing fantasy player stock each week. To kickstart things, we have handpicked the intriguing case of Joe Denly, who hasn't been in the best of forms this season. As he trades at a lowly 34.10 Sixer Coins per Share, there are mixed opinions over his reliability, which is why dig deeper into his numbers and get to the bottom of it. Without further ado, let's get into the thick of things!
Tough Times for Joe - Match Score Average of 29.53 in the English Test County Championship 2021!
The beauty of the English Test County Championship is that it tests a player to the fullest with varied conditions and of course rain over a period of time. While some blow hot and cold at times and some grab the opportunities from the word go, there are a few who start slow and ease towards the finish line with emphatic performances. Fantasy shareholders of Joe Denly will be hoping that the Kent batting all-rounder fits into the description.
Denly, who has featured in all five Kent games so far, averages a match score of just 29.53 with his price falling by nearly 8%. His price currently reads 34.10 Sixer Coins, which is the lowest it has been in some days. The top-order batsman has failed to cope with quality swing bowling with the likes of Jordan Thompson, David Lloyd and Luke Wood getting the better of him. Despite being well-experienced and well-equipped to handle quality swing and seam bowling, Denly has nothing to show for his efforts apart from a price decrease in the Sixer Market!
But what has gone wrong, you ask? The rain is to blame, yet again! With bowler-friendly conditions on offer, Denly has often looked vulnerable to swing and seam, which has accounted for his wicket on all occasions in the English Test County Championship this season. But, there's more than just rain. Denly, who is known for his daddy hundreds for Kent, hasn't played more than 100 balls in any innings, with the closest being 92 balls against Yorkshire. Although he has a couple of starts to his name, Denly has just not been able to convert them into big ones.
Part of his failure can be the quality of oppositions as well. He has played against Yorkshire (twice), Lancashire, Glamorgan and Northamptonshire, who occupy the top four spots in the six-team Group 3 Points table. Although the other team, Sussex is no pushover, there are runs on offer if their openers, Daniel Bell-Drummond in particular, can see out the new ball. But his short term returns have been woeful enough to make fantasy shareholders look elsewhere for a trade. But in reality, there's again much more to it than you think!
Experience, A Touch of Luck and the Prospect of An Extended White-Ball Season Is All Denly May Need After All!
Denly may be averaging a match score of less than 40 in his last 10 games across all competitions. He may be down by more than 20% in 2021. But surely the Kent allrounder isn't a bad option to have in the Sixer Market. In fact, his last game against Yorkshire saw him register a match score of 42.70, which is his highest to date in this year's competition. And to add value to it, the game only lasted two innings, no thanks to the rain! He even picked a wicket with the ball in hand, which might be a sign of things to come with Kent lacking a genuine spin threat apart from Marcus O'Riordan.
While Kent is set to play quite a few home County games in the weeks to come, there's more. There's the Royal One Day Cup and the T20 Blast 2021 to look forward to in the next month. And to everyone's delight, the Hundred is all set to entertain cricket fanatics all over the world, which again plays into Denly's hands, who is actually more accomplished in the white-ball formats. He even snuck into the English World Cup squad in 2019 before making way for Liam Dawson, but no one can take his talents for granted in the ODI and T20 format.
With Denly showing signs of improvement over the last few days in the County Test Championship and also the prospect of an extended white-ball season, opportunities will come in thick and fast for Denly and the rest of the County players over the next few months. But the funny thing with rain and players such as Denly is that it may take them no time at all to flip the script and have an impact on a game. Given Denly's credentials, having played in the PSL, IPL and BBL, to name a few, he may well be the player you are constantly searching in the Market to make massive money on. Are you going to back Denly in his tough times before he potential makes the cut as one of the Bulls on our weekly editions? Only time will tell!
Other insights that might interest you