Rahul Up by 15% as Punjab Kings Decimate Kohli and Co; Will Jadeja Outshine Krunal in the Battle of the All-Rounders?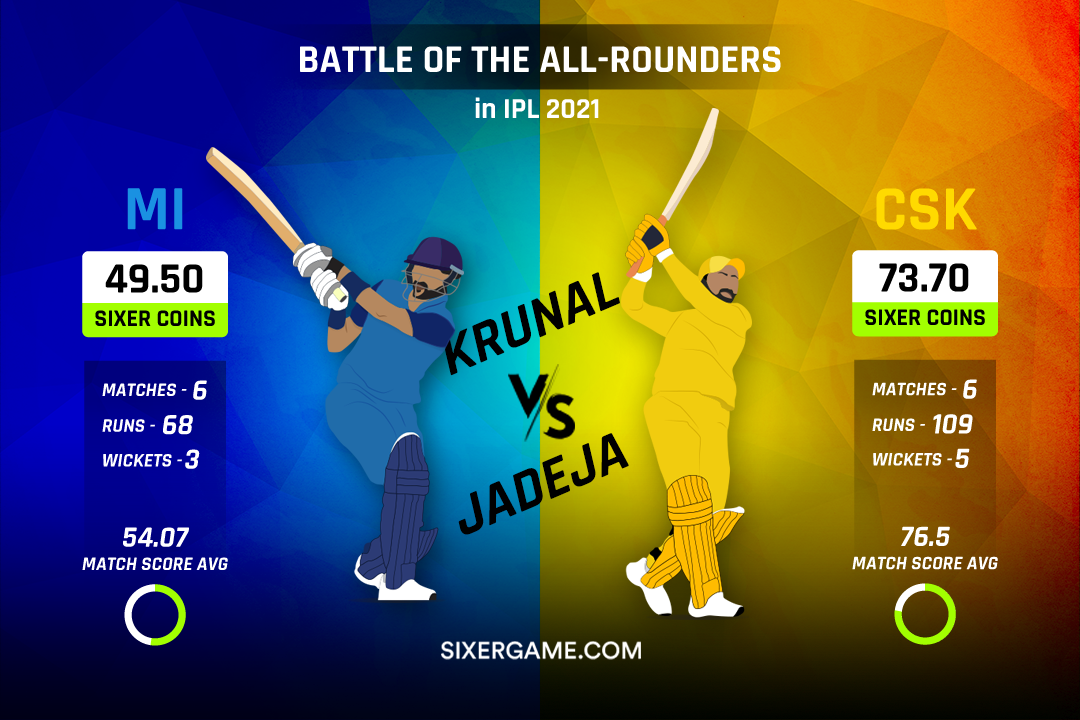 The Royal Challengers Bangalore came across a rampant KL Rahul, who smashed a 57-ball 91 to lead the Punjab Kings to a win in the ongoing IPL 2021. Courtesy of his sensational fifty, Rahul saw an increase of nearly 15% on Friday alone, with none of the Royal Challengers Bangalore bowlers able to get the better of him. He was well complemented by Chris Gayle, whose match score of 90.42, as he cruised on to an increment of 11%. While both the former RCB players had their way, it wasn't the case with RCB's star trio of AB de Villiers, Virat Kohli and Glenn Maxwell. While Virat Kohli's timid knock of 35 earned him a slight price increase, AB de Villiers and Glenn Maxwell's prices dropped by nearly 12%. Although Kyle Jamieson, whose match score reads 53.96, tried to get going with the bat, it wasn't meant to be a day for Royal Challengers Bangalore fans and players in the Sixer Market!
But we move on to the 'El Clasico' of the IPL as Mumbai Indians take on the current table-toppers Chennai Super Kings. Both teams have impressed this season, with Faf du Plessis and Trent Boult seeing an increase of over 10% in their last few games. Not to mention Moeen Ali's sensational showing in the CSK top order. However, we draw your attention towards a battle within the battle between two of the best all-rounders in Ravindra Jadeja and Krunal Pandya. Both spin-bowling all-rounders have impressed with bat and ball this season and are on the rise in the Sixer Market! But clearly, Jadeja has stolen the thunder with a match score of 150 to his name this season as well. But can he outshine Krunal at the Arun Jaitley Stadium? Let's take a deeper look into this much-awaited battle in the Sixer Market!
Jadeja and Krunal averaging a match score of over 50 in IPL 2021!
Team India is blessed with spin-bowling all-rounders at the moment. Right from Ravi Ashwin to Washington Sundar, there's a lot of competition around for the coveted spot in the Indian team. However, none of them can stake a bigger claim than 'Sir' Ravindra Jadeja! The left-arm spin all-rounder has been sensational this year, and his numbers tell you why. In six outings, Jadeja has 109 runs and six wickets to his name. In addition, his match score average of 76.5 is the highest among all IPL players at the time of writing.
But what has really changed about Jadeja's approach? For starters, he is being a more proactive role with the bat. He is batting higher up the order and making it count as well. He strikes at 184.75 and also has a fifty to his name this season. Also, Jadeja has been quite economical with the ball. Apart from his economy rate of 6.29, Jaddu also has five wickets to his name, which adds value to his case as the premier all-rounder in the country.
However, Krunal Pandya might think otherwise. Although he bats considerably lower down the order, Pandya has made an impact with the bat for Mumbai Indians. He has 68 runs at a strike-rate of nearly 130, with the southpaw even earning a promotion to number four in the absence of Ishan Kishan! Although he has been sparingly used with the ball, three wickets in six outings add value to his name. His match score average of 54.07 is among the best in the Mumbai camp, although there is room for improvement.
But going forward to today's big clash, either of them is going to have a big say with the bat. While Jadeja will ideally be called upon to have a dab at the Mumbai bowling attack, the real test comes up when he meets Jasprit Bumrah and Trent Boult. If he does pass this with flying colours, indeed Jadeja is on his way to the MVP award. But on the other hand, you've got Krunal Pandya, whose explosive batting at number four could ideally tilt the odds in Mumbai's favour, given they are operating with Jadeja in the middle overs. This points us towards the most important question - Can Jadeja Outshine Krunal? If you think you know the answer, the Real Market is the place to be, come 7:30 PM IST!
Other insights that might interest you