ENG vs NZ: Can Latham Get Back Into the Gains Ahead of WTC Final?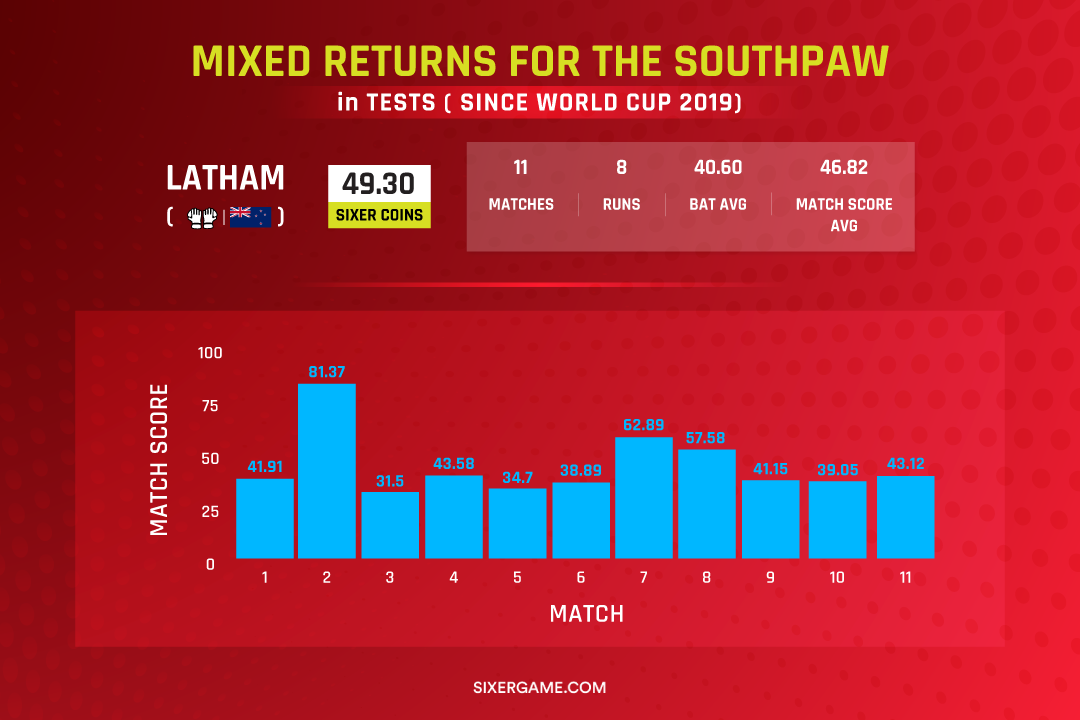 The wait for the England vs New Zealand Tests is coming to an end. However, this translates towards a greater need for fantasy stocks ahead of a packed international and T20 season in England over the next few weeks. While the T20 Blast and PSL is also around the corner, New Zealand fantasy players stocks also provide value for money.
With New Zealand set to play in three Tests, including the WTC Final against India, there is ample opportunity for a profitable trade. While the spotlight is firmly on two of the Fab Four in Kane Williamson and Joe Root, Kiwi opener Tom Latham puts forth an intriguing case in the Sixer Market.
Although Latham is one of New Zealand's finest, his returns haven't been great over the last year or so. Despite Latham scoring 811 runs in 11 Tests, he has looked a touch off colour with a match score average of just 46.82, which requires further inspection.
Walking along the same lines, we look into Tom Latham's recent exploits for New Zealand and whether he is the real deal heading into the all-important international season! Here's your daily dose of Sixer Market Insight.
Mixed Fortunes for Latham - Price up by 31% Despite Test Match Score Average of 46.82 since August 2019!
In eleven Tests since the 2019 World Cup, Latham has only three 50+ match scores to his name. Although he has played most of them at home, Latham hasn't really kicked on at the top of the order. His recent failures against Pakistan even caused his fantasy price to drop to a 28-match low of 41 Sixer Coins.
But has Latham been that bad? In reality, not at all. Although he did play at home, conditions were suitable for fast bowling and swing bowling in particular. While New Zealand reaped the rewards of Kyle Jamieson's meteoric rise in Test cricket, it did come at cost as Latham couldn't contribute much in their Test wins against West Indies and India.
However, Latham did manage 811 runs during this period, which isn't bad considering he averaged 40.60 with the bat. Even though he wasn't nearly at his best in testing conditions, he did the job for New Zealand, which is an encouraging side for New Zealand and his potential fantasy shareholders.
In addition, Latham has prior experience playing in English conditions. But the trauma of the 2019 World Cup Final might still be fresh in Latham's mind, who scored a well-compiled 47 off 56 balls in the final. However, the swing of James Anderson and the relentlessness of Stuart Broad, who is at his best against left-handers, ask Warner, is a different challenge altogether.
Given his track record and reputation as one of the best openers in Test cricket, Latham has the skill-set to hand New Zealand a good start on the batting front. But can he get over his recent struggles against quality pace and deliver with the world watching? Only time will tell!
Other insights that might interest you