ENG vs NZ: All Eyes on Pacers Jamieson and Broad Ahead of The First Test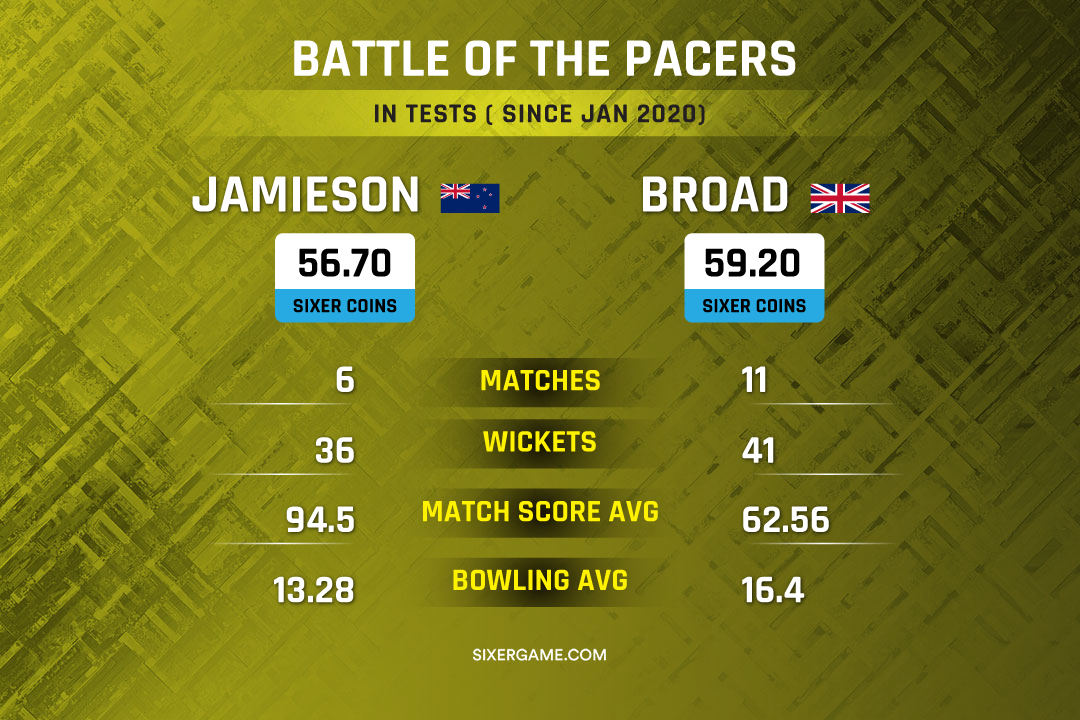 It's a new week in the Sixer Market, but this one comes in with a renewed sense of hope and excitement for fantasy shareholders. The English Cricket summer is set to get into overdrive with England and New Zealand sparring across two Tests ahead of the former's all-important WTC clash against India.
Given the notorious English weather, one can take for granted that the pacers will have a more significant say than the others. With an ample amount of swing and seam on offer, the likes of James Anderson and Trent Boult will be essential for their respective sides.
But it isn't just about Anderson or Boult. You'd need a solid all-round bowling attack to deliver in English conditions, which is precisely why we shift our focus to two of the best performing bowlers in Test cricket since 2020 - Stuart Broad and Kyle Jamieson.
Despite their stellar performances, they aren't really considered as their team's premier threat with the ball in hand, but their bowling performance paints a different story. Here's some much-needed insight on the two pacers as we kickstart our road to the WTC Final.
Top of the Pile - Broad and Jamieson Among Elite Company With Match Score Average of 60+ Since 2020 In Tests!
Kyle Jamieson's career has seen quite a few highs since he made his debut in early 2020. Although he has turned up for NZ in just six games, he boasts of 36 wickets at an average of 13.28, the lowest for any bowler in the World Test Championship. In fact, his batting exploits have also added value to his case as a genuine all-rounder, which is exactly why we went for more than two million dollars in the IPL auction.
His pace and height add a unique dimension to the Kiwi bowling attack that already boasts of Boult's left-arm swerve, Southee's immaculate swing bowling and Wagner's relentless short-pitch barrage. All of this may have helped Jamieson achieve a match score average of 94.5, again the highest among all players who played at least five games in the World Test Championship.
He is expected to play a similar role in England as well, with first change bowlers being critical when the ball isn't doing much. If Jamieson needs a template, he need not look further than Stuart Broad, who has been brilliant with the old ball and the new ball for England since 2020.
Even though Stuart Broad hasn't been the first choice since the arrival of Jofra Archer, he hasn't let age get the better of him. In eleven games, he has 41 wickets with a bowling average of 16.4. Almost half of these wickets have come in his second spell, making him one of England's go-to bowlers in the middle overs.
With a match score average of 62.56, Broad has done no harm to his fantasy stock price, currently at 59.20 Sixer Coins. But against Jamieson and the Kiwis, Broad will need to be at his best if he were to do justice to his fantasy shareholders. But who will come out on top in this battle of the pacers is a question that could earn you big bucks in the Sixer platform!
Other insights that might interest you