County Bulls & Bears: Burns Up by 13% as Stone, Bell-Drummond Drop to Season-Lows!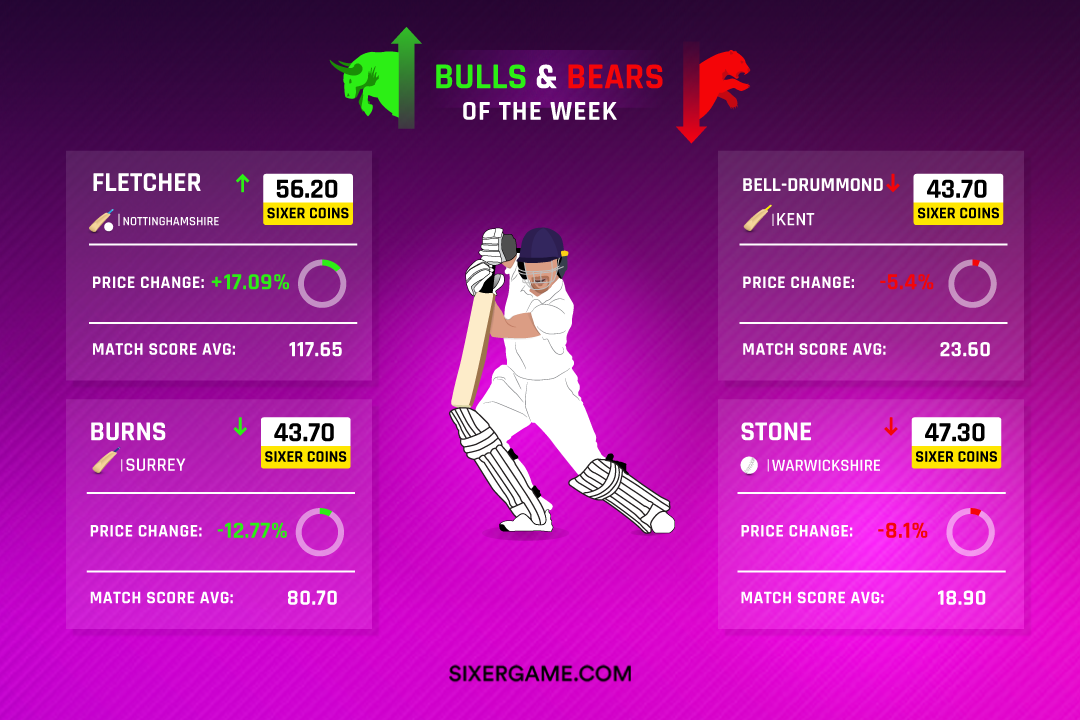 The County Championship is beginning to intensify with each passing round, both on the field and in the Sixer Market. New additions in the Market during the weekend have already made their mark, with fantasy shareholders seeing potential in them. But only a few make the cut in this week's edition of the County Bulls & Bears! Without further ado, let's find out more about those individual and their performances!
Bull #1: Rory Burns (Surrey)
At first glance, Burns' price of 43.70 Sixer Coins might suggest otherwise, but he has been in sensational form for Surrey over the last month or so. However, he indeed came to the fore against Middlesex with a stunning hundred in the third innings.
This spurred his match score to 80.70, earning him and his fantasy shareholders a 13% increase. With Burns expected to feature heavily for England in the Tests against India and New Zealand, watch out for the southpaw in the Sixer Market!
Bear #1: Daniel Bell-Drummond (Kent)
In what was potentially a do-or-die game for Kent, their vice-captain Daniel Bell-Drummond found himself in a weird position. An opener by trade, Bell-Drummond was demoted to a lower middle-order owing to form. But this didn't help his cause as he could only face six balls before getting out to a rampant Michael Neser for a grand total of zero runs.
He didn't get a chance to bat in the following innings, leaving his fantasy price and match score stranded at 43.70 Sixer Coins and 23.70, respectively. His price dropped by 5.4%, although it isn't the end of the world for Daniel Bell-Drummond. He is still one of Kent's best bets with the bat, and with the English season not even halfway through, he could well find his way back into the gains and the good books of potential fantasy shareholders
Bull #2: Luke Fletcher (Nottinghamshire)
There was one individual who has stormed into the good books of every single shareholder on the platform, and his name goes by Luke Fletcher! The Nottinghamshire all-rounder put on a performance for the ages as he picked as many as ten wickets across two innings! This paved the way for a stunning win for Nottinghamshire as they beat Worcestershire by an innings and 170 runs.
As a result of his match-winning performance, Fletcher achieved a match score of 117.65, the highest for any player during the week. This also resulted in a price increase of 17.09%, again the highest among all county players during the week. Fletcher, known for his accuracy and experience, is one of the Notts' go-to bowlers, both in the red-ball and white-ball formats.
With the likes of Broad and Ball likely to play a role in the English National side, this ensures more opportunities for Fletcher to shine in the Market. And if he does continue these performances, his price of 56.20 Sixer Coins should be a bargain in hindsight!
Bear #2: Olly Stone (Warwickshire)
Last but not least is Olly Stone, who makes the cut as a Bear this week. The English international didn't have much to do in Warwickshire's game against Essex last week. But in the only innings he bowled, he could only return figures of 1 for 62, with his only wicket being that of James Porter, Essex's number 11.
Now, at first glance, these numbers might not seem too bad. But in reality, his match score of 18.90 gives you an idea of his abject performance. On a pitch that did help the pacers, Stone looked clueless, causing his price to drop by nearly 5% to 47.30 Sixer Coins. But again, this could well be a one-off.
Olly Stone is your traditional bend-your-back kind of bowler who breaches the 140-kmph mark quite regularly. With Stone also impressing in England colours, he should also be one to keep tabs on in the coming days, given England's hectic schedule over the next year or so! Perhaps, he could make a comeback in our segment as a Bull! You wouldn't want to miss out on him, would you?
Other insights that might interest you