Bulls & Bears of the Week: Pollard, Buttler Strike Gold as Padikkal Stocks Plummets by 11%!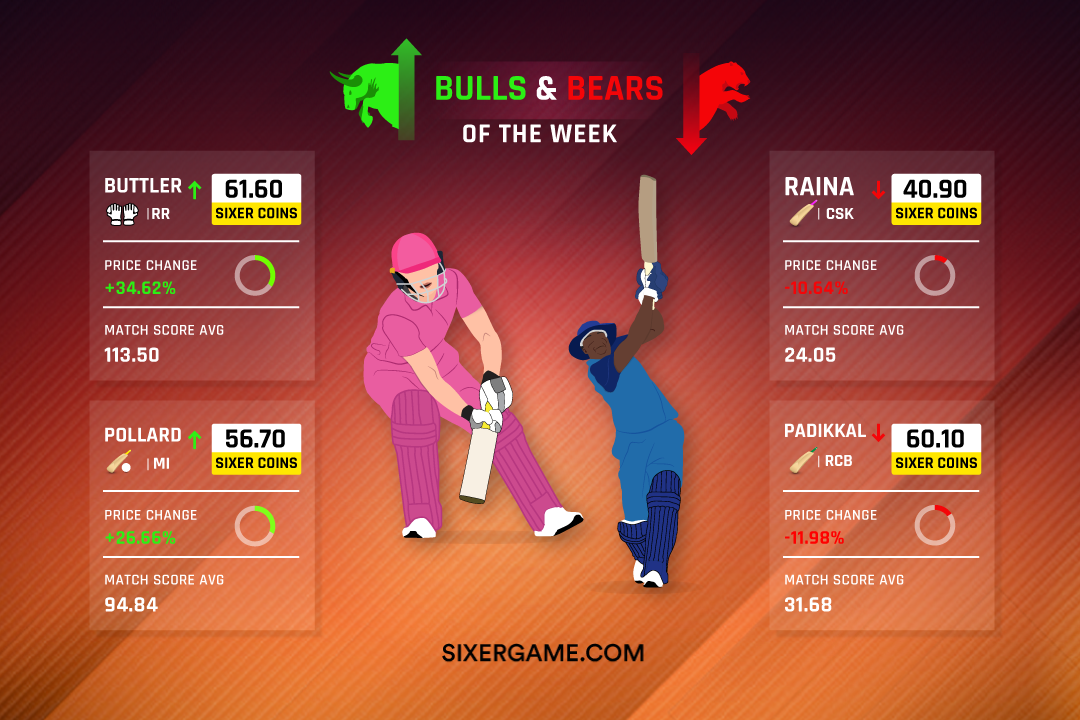 Another week filled with action-packed cricket unravelled in the IPL. Likewise, there were fantasy shareholders who made the most out of it with some shrewd acquisitions. The likes of Krunal Pandya and AB de Villiers had a decent week, with Mayank Agarwal even registering a 150 match score in his captaincy debut. However, none of the aforementioned trio make it as a Bull in this week's edition, signalling the heap of opportunities on offer in the Market! Want to get an insight on the most happening fantasy stocks in the Market? Here are your Bulls and Bears of the Week!
Bull #1: Jos Buttler (Rajasthan Royals)
What a turnaround it has been for Buttler, who was incidentally a Bear in the previous edition. The Englishman has seen a marked change in his form and fantasy stock price that is now up by 34.62%! He scored nearly 180 runs in the two games in Delhi, including a mesmerizing hundred against the Sunrisers Hyderabad. He notched up his first T20 in the process, earning him a match score of 150, his first in over two years in the Sixer Market! With a match score average of over 100 over the week, Buttler stands out as the marquee signing that any fantasy shareholder would have loved to have in their portfolio. But it isn't too late. Buttler is available for a reasonable price of 61.60 Sixer Coins per Share, leaving ample space for a further increment. With Buttler set to play a couple of games in Delhi over the week, you wouldn't want to say no yet again!
Bear #1: Suresh Raina (Chennai Super Kings)
Although the Chennai Super Kings are well on course for a top-four finish, one of their top four is having a hard time on the field. Suresh Raina, after his sparkling fifty against Delhi Capitals early in the season, has faded away. His fantasy price is down by 10% in his last two games, courtesy of two rare failures. He averaged a match score average of 24.05, which might have paved the way for concerns over his viability. Given that Raina is a veteran of the IPL and has the experience to overturn his form, he might play a vital role in the CSK batting unit moving forward. With pitches likely to slow down as the tournament progresses towards the end, we might just be in for a string of big scores off Raina's bat.
Bull #2: Kieron Pollard (Mumbai Indians)
Who else but Kieron Pollard? There's always the threat of Pollard in a run chase, and who would know it better than CSK! They were on the receiving end of perhaps the best performance in Mumbai Indians history. Pollard hit a whirlwind 87 and picked two wickets as he helped MI chase down a target of 219. His blitzkrieg earned him a 150 match score, his third perfect score in the last year, adding value to his case. He is now up by 26% in his previous two games, with his fantasy stock price reading 56.10 Sixer Coins per Share! Like our other Bull Jos Buttler, Kieron Pollard is also quite reasonably priced in the Market, given his form. With the burly West Indian making a habit of picking wickets and smashing sixes for fun, he wouldn't be a bad addition to your Sixer portfolio by any means.
Bear #2: Devdutt Padikkal (Royal Challengers Bangalore)
Jos Buttler's century against the Sunrisers was the third of the season after Sanju Samson and Devdutt Padikkal's. While Buttler continues to rise in the Market, it hasn't been the case with Devdutt Padikkal, who makes the cut as a Bear this week. In both his outings over the week, Padikkal failed to get going despite scoring some quick runs at the top of the order. As a result, his price dropped by nearly 11%, courtesy of a match score average of 31.68. This might be a flag for potential fantasy shareholders, but Padikkal hasn't really lost his touch with the bat. His strike rate still reads a dominant 152.34, which adds viability in the Sixer Market. But can he translate the same form into big runs and sustain it through the tournament? Only time will tell if he can transform into a Bull overnight!
Other insights that might interest you