Bulls & Bears of the Week: Maxwell Continues Hot Form as Gayle Drops By 11%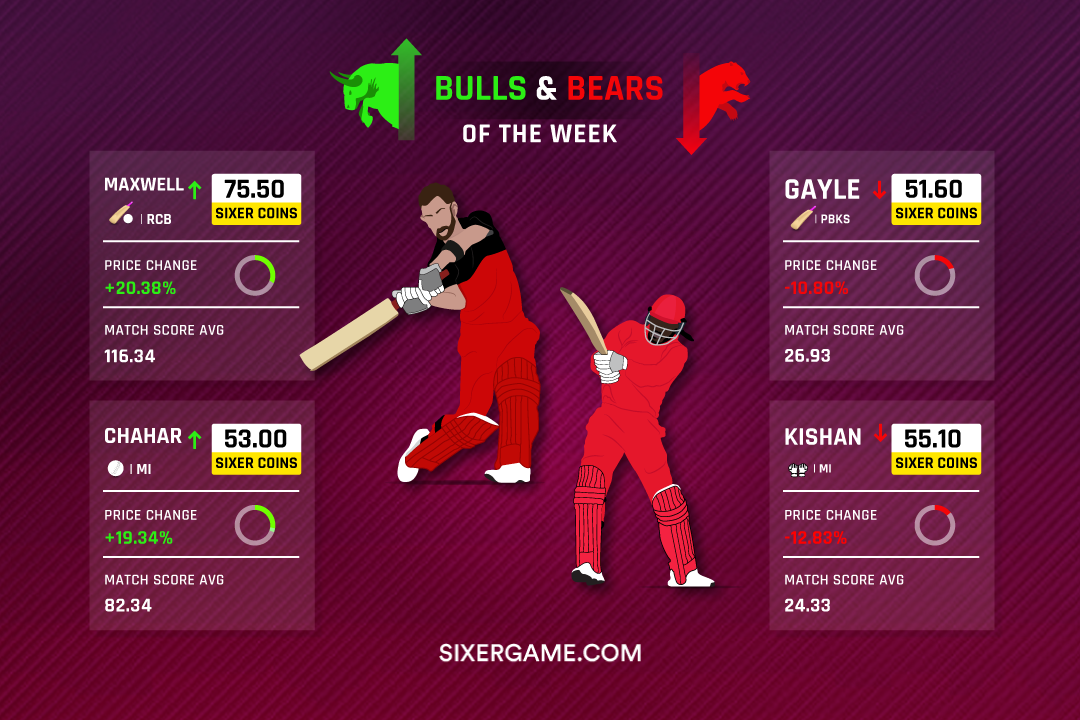 The IPL action is coming at us thick and fast, with fantasy shareholders reaping the rewards for some shrewd acquisitions in the Real Market. However, they were a few that really didn't make a mark over the last few days, which may open up an opportunity for a big trade in the coming days. So without further ado, here are the Bulls and Bears of the Week!
Bull #1: Glenn Maxwell (Royal Challengers Bangalore)
Once again, Glenn Maxwell stands out as a Bull in the Sixer Market and rightly so. The Aussie smashed two fifties over the week and even earned the man of the match award in the game against Sunrisers Hyderabad. Maxwell saw an increase of 20.39%, which now takes his fantasy price to 75.50 Sixer Coins per Share! Maxwell has a season match score average of 116.34, which is among the highest in the competition, although he might be just starting in the IPL. But RCB's Chennai leg did come to an end earlier in the week, which presents a question as to whether Maxwell can come up with the goods in the other stadiums as well. If you think he can, 75.50 Sixer Coins is all it takes to back him in the Market!
Bear #1: Chris Gayle (Punjab Kings)
While Maxwell's fantasy shareholders have been on fire this week, the same cannot be said about Gayle's fantasy shareholders. The West Indian has had a rough start so far with a price drop of 10.80%. He averaged a match score of just 26.93 over the week, with Punjab Kings losing both their games in the process. However, Gayle is one of the most influential players in the competition, and his ability against spin is second to none. As the Kings move over to Chennai for a couple of games, Gayle could well be in line for a massive increase. Surely a trade, right?
Bull #2: Deepak Chahar (Chennai Super Kings)
Another individual who had a great week was Deepak Chahar, who was the biggest mover among bowlers in the IPL. Chahar wrecked the Punjab Kings batting unit with an exceptional spell of bowling in the powerplay. The pacer picked three wickets, which earned him a match score average of 82.34. While it doesn't seem as glamourous, his price increase of 19.34% indeed does. With his stock trading at 53 Sixer Coins per Share, there is still some room for an increment. But only time will tell if he can truly hit the heights of IPL 2018 and 2019!
Bear #2: Ishan Kishan (Mumbai Indians)
The last name on our list, albeit a Bear, is Ishan Kishan, who has failed big time in the Sixer Market! Kishan hasn't been his usual self for Mumbai this season, and it shows in his fantasy stock price of 55.10 Sixer Coins per Share! He averaged a match score of 24.33, resulting in a 12.83% decrease over the week. Although this can be attributed to the nature of the pitch in Chennai but given how Kishan takes the spinners on, he should be doing better than that. However, you cannot take the pocket-sized dynamite lightly at all. With his explosiveness bound to shine at some point in time, he could well be worth the 55.10 Sixer Coins in the long run!
Other insights that might interest you